Wurlie is based on e a Wurlitzer&copy 206A model. The Wurlitzer&copy 206A is a student model, and is very similar to a 200A except for its beige color and built in amp/speaker (it also did not come with a tremolo). It was designed to be paired with a 206, which is the teacher model and they were mainly used in conservatories. The teacher had a headphone and microphone to be able to listen to each student individually and talk to them without others hearing them.
Once equipped with a DI output and a tremolo system (this is a very common and easy mod with just a few components to solder on the preexisting holes in the original circuit board) the 206A sounds exactactly like a 200A with the exception that it also has a built in amp that is more powerful and has more bass than the two small front speakers of the 200A's.
Here are a few pictures of the model we sampled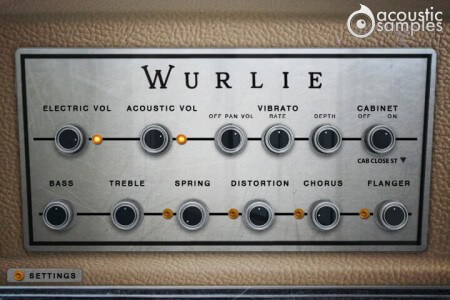 Authentic reed sound
We recorded the Wurlie from both the direct output using a state of the art DI (Universal Audio Solo 610) and also using a pair of microphones right above the keys next to where the head of a player would be.
With our precise resonance model, our detailed staccato and release adjustments and the meticulous velocity layer transitions, the Wurlie is truly the most detailed and accurate recreation of the famous reeds electric piano sound.
more...

Adjustable vibrato
The student models don't have the vibrato circuit built in by default, but with a whole system of teacher / student com system designed for quiet music courses instead.
There is a common mod for these instruments that consists of adding the vibrato circuit and even add the possibility to control its depth and rate. We added these possibilities and went a step further and added the stereo pan present in Rhodes suitcase instruments.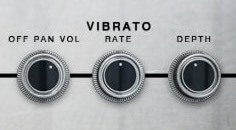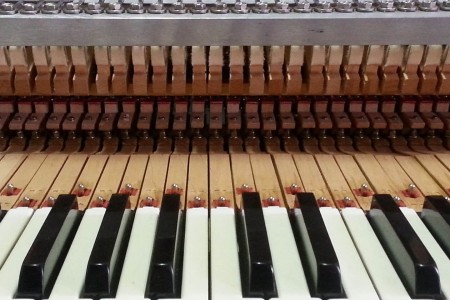 Real resonances
Just like for every mechanical instrument, there are resonances, but in the case of the Wurlie, they are very specific.
We captured the sympathetic resonances for both pedal up and pedal down and modelled them carefully to make sure you get the most natural response.

All the FX you need
Wurlitzers© are often played with FX, we added a 2 band EQ, a Spring reverb, a tube distortion, a chorus and a flanger, and there is also a list of known amp simulations to choose from.
That's pretty much everything you need to mimic the sound of any Wurlie in any song.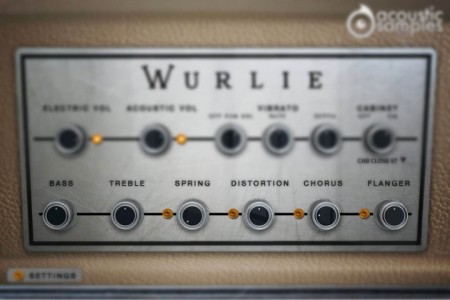 more...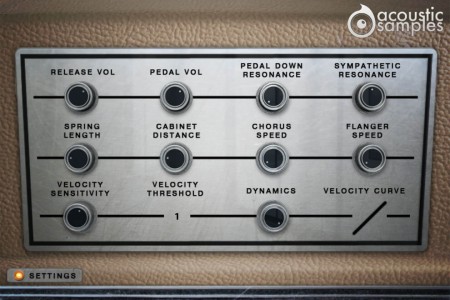 Advanced settings and MIDI controls
The advenced panel lets you control a few things like the pedal noise or the release volume, and also a few more parameters of the FX.
There is also a complete section about the MIDI controls to tweak the response of the Wurlie and match it exactly to how you like it.
more...

Sample player
Wurlie comes with its own sample player, the UVI Workstation 3 (requires v3.1.6 or later).
We provide it for free with every library that you buy, you don't need to buy an expensive sampler to use our products. It works on Mac (10.14 or later intel or arm processor) and PC (windows 10 or later), in standalone or as a plugin (VST / VST3 / AU / AAX ) and in 64 bits only. You can find more info about it here.

Technical description
1.21Gb uncompressed, 278Mb compressed in lossless flac format, around 3123 samples.
10 Velocity layers for the sustain.
20 Velocities for the release.
Time based release samples for accurate staccato sound.
Sustain pedal noises (up and down), triggered automatically.
Independant mix of the acoustic/electric sound.
Sympathetic resonance on both pedal up and down.
Complete control over the midi response.
EQ.
Vibrato simulation.
Saturation, chorus and flanger effects.
Amp simulation of the real cabinet.
Spring Reverb.
Advanced UVI scripting giving you access to a simple yet powerful interface and advanced features.
iLok or computer based




We use the iLok system to protect our products and you can choose to register your license to your computer or to an iLok dongle.
If you decide to use an iLok dongle, both V1 and V2 are compatible with our products.
You can activate your license on up to 3 computers or iLok dongles at the same time and you can deactivate one and activate another as many times as you want.

Registration
Once your order is complete, you will be provided with a serial number.

You will then be able to register it to your iLok account from our website

on this page

(you need to be logged in to access this page). The whole process is described in the

FAQ

(instructions + screencast).
Add review
Have your Wurlie for 2 years now and i'm still lovin it. It sings, i'm really diggin this sound. Last week i purchased my first real Wurlitzer 200a and it will be voiced to match the sound of your wurlie. If you one wanna sell the 206 model you used for makin your awesome plugin let me know :) Keep up the good work. Blessings, Marc
http://www.pro-tools-expert.com/video-reviews/2016/6/14/review-wurlie-by-acoustic-samples
http://reviewrevival.weebly.com/reviewers-blog/acousticsamples-wurlie-review-it-wurly-change-your-wurld Video link: https://www.youtube.com/watch?v=OIzsj3KLlg4&feature=youtu.be
I sold my 206a after I got this.
I know what you're thinking…"another wurli ep library?" but don't! First..I LOVE a good EP library, and second, this is based on the 206a "student model", not the 200a like we see most of the time. This one had it's own built in amp/speaker. But anyway, this library is dedicated to capturing the sound of that specific instrument in true Acousticsamples fashion... Read more: http://soundsandgear.com/big-fish-audio-acousticsamples-wurlie-review/
Add review