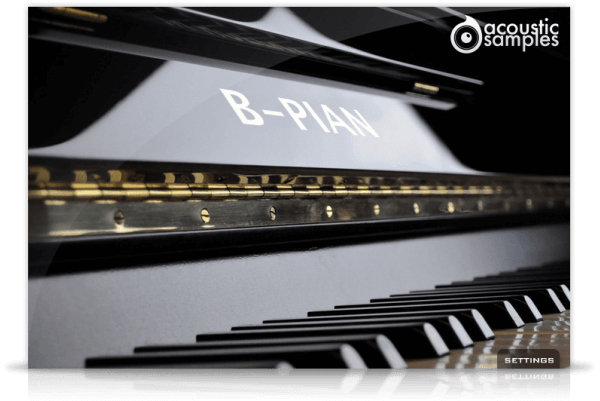 The B-Pian Upright is a bad, old, out of tune, mecanically unperfect but still usable upright piano. After watching a movie (we won't say which one) scene with a guy playing on an old upright and hearing what clearly was a 9 foot grand, we decided that it was time to produce that sound everybody knows, the sound of the piano you played on when you started learning the piano, the one that you were at your friends place and is taking dust and that goes out of tune in two weeks.
Sample player
B-PIAN comes with its own sample player, the UVI Workstation 3 (requires v3.1.6 or later).
We provide it for free with every library that you buy, you don't need to buy an expensive sampler to use our products. It works on Mac (10.14 or later intel or arm processor) and PC (windows 10 or later), in standalone or as a plugin (VST / VST3 / AU / AAX ) and in 64 bits only. You can find more info about it here.
Technical description
502Mb uncompressed, 231Mb compressed in lossless flac format, around 166 samples.
3 Velocity layers for the sustain.
3 Velocities for the release.
Pedal down resonance and true pedal action.
Key noises samples.
Sustain pedal noises (up and down), triggered automatically.
Advanced UVI scripting giving you access to a simple yet powerfull interface and advanced features.
iLok or computer based




We use the iLok system to protect our products and you can choose to register your license to your computer or to an iLok dongle.
If you decide to use an iLok dongle, both V1 and V2 are compatible with our products.
You can activate your license on up to 3 computers or iLok dongles at the same time and you can deactivate one and activate another as many times as you want.
Registration
Once your order is complete, you will be provided with a serial number.

You will then be able to register it to your iLok account from our website

on this page

(you need to be logged in to access this page). The whole process is described in the

FAQ

(instructions + screencast).
Add review
http://fr.audiofanzine.com/piano-acoustique-virtuel/acousticsamples/A-PIAN/editorial/tests/touches-fran-aises.html
Add review