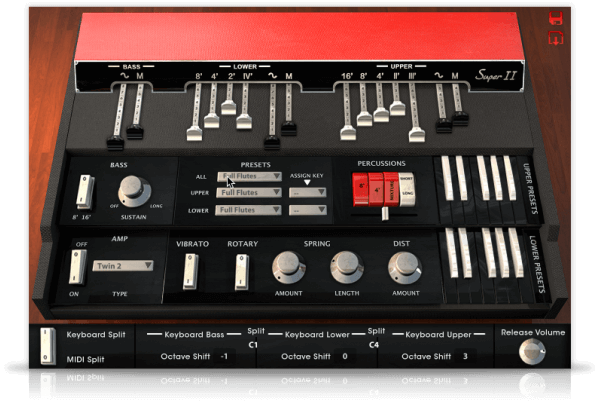 The Super II is based on a 1965 VOX super continental dual manual organ. Many variations of this keyboard were created, single manuals, dual manuals, with and without the percussions switches. The one we used is a rare one that is a dual manual and an extra output for a pedal keyboard and has the percussion switches.
The VOX continental has been used a lot in the 1960's rock bands such as the beatles, the doors, and the animals.
We sampled every drawbar of each of the 3 keyboards separately that you can control from the interface and explore every available tone of the Super II plus we sampled it with and without the vibrato effect. The pedal keyboard also has a sustain feature as well as a legato up function that we recreated to mimic the behaviour of the original instrument.
We also added a complete chain of effects, a spring reverb, a saturation and a cabinet simulation with 20 different cabinets and microphones combinations plus a rotary speaker.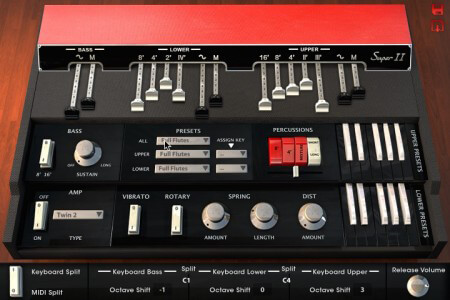 Keyboards and Drawbars
Each drawbar has been carefully sampled for each of the 3 keyboards (Bass, Lower and Upper). We also sampled the rare 4 switches percussions system for the upper keyboard and even added a volume.
You can completely shape the sound of the instrument, from a soft and mellow sound to the hard sound of the 60's rock.
more...
FX section
A combo organ is never played without an amp, so we added an amp simulation as well as 25 cabinet / microphones combinations, a rotary speaker effect and also a spring reverb and a distortion effect.
We also sampled the real vibrato and you can activate it for all 3 keyboards.
Bass simulation
The super continental model has 2 keyboards and an optional plug for a pedal keyboard, but you can also shape its sound with the two drawbars and with the 8' / 16' switch.
One of the special features of these pedal boards is a "sustain" effect that has leaves the notes ringing for some time after you release it, but can be stolen by another note using a legato up effect.
more...
Presets
With all these drawbars, you need presets, we added the original ones that came with the manual.
And yes, you can save yours, share them and re-open them, and that for each keyboard. There is also a B3 organ style preset recall system with the notes next to the FX panel.
MIDI separation
3 keyboards is great and it's even better if you have 3 different real keyboards, you can split your keyboard as you want or select a MIDI channel for each one.
Sample player
Super II comes with its own sample player, the UVI Workstation 3 (requires v3.1.6 or later).
We provide it for free with every library that you buy, you don't need to buy an expensive sampler to use our products. It works on Mac (10.14 or later intel or arm processor) and PC (windows 10 or later), in standalone or as a plugin (VST / VST3 / AU / AAX ) and in 64 bits only. You can find more info about it here.
Technical description
520Mb uncompressed, 250Mb compressed in lossless flac format, around 3500 samples.
3 keyboards, Bass, Lower and Upper with individual drawbars that you can mix from the interface.
Many presets that you can save, load and share plus the default ones included with the original VOX manual.
Accurate pedal keyboard behaviour simulation (sustain and 8/16).
Spring reverb and saturation effect.
Amp simulation with around 20 different cabinet and microphones combinations.
MIDI channel or zone based separation to access all 3 keyboards
Advanced UVI scripting giving you access to a simple yet powerfull interface and advanced features.
and more...
iLok or computer based




We use the iLok system to protect our products and you can choose to register your license to your computer or to an iLok dongle.
If you decide to use an iLok dongle, both V1 and V2 are compatible with our products.
You can activate your license on up to 3 computers or iLok dongles at the same time and you can deactivate one and activate another as many times as you want.
Registration
Once your order is complete, you will be provided with a serial number.

You will then be able to register it to your iLok account from our website

on this page

(you need to be logged in to access this page). The whole process is described in the

FAQ

(instructions + screencast).