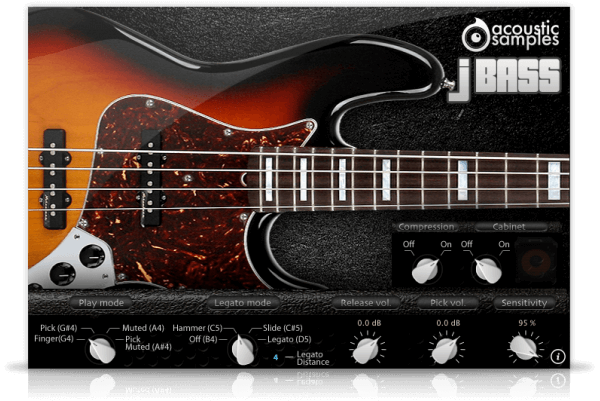 JBass is a four strings american Fender Custom shop Jazz bass with flatwound strings.

The first Jazz Bass was made in 1960. It was made to accompany Fender's new guitar at the time, the Jazzmaster. The neck on the Jazz Bass were longer and narrower than any of Fender's previous models. This new design was intended to mimic the feel of the stand-up bass. Even the new mid tones that the guitars could produce were made with jazz musicians in mind. The sound of the Fender Jazz Bass has been fundamental in the development of signature sounds in certain musical genres, such as funk, disco, reggae, blues, heavy metal and jazz fusion and is now used in almost any genre.
Default interface

At the bottom of the interface, you can control the behavior of the instrument:
Play mode: you can choose the playing technique, we recorded the bass using the fingers, a pick, playing it with the fingers or the pick with the palm muting the strings.
Legato mode: you can choose wether playing a legato will trigger Hammer ons, slides, sustains, or simply have no effect.
The legato distance will define the maximum interval that in which the legato will apply.
The release Volume: the sound produced when you release a string if a note was going on.
Compression: you can turn the multiband combressor on or off.
Cabinet: you can turn the Cabinet simulation on or off.
EQ: you can edit the Bass and Treble of the parametric EQ.
The Sensitivity will set the minimum volume for velocity 1 and give you access to all the dynamics that you want.
Sample player
JBass comes with its own sample player, the UVI Workstation 2 (requires v2.6.5 or later).
We provide it for free with every library that you buy, you don't need to buy an expensive sampler to use our products. It works on Mac (10.7 or later) and PC (windows 7 or later), in standalone or as a plugin (VST / AU / AAX ) and in 32 and 64 bits. You can find more info about it here. If you want to use our products in osx 10.5 or 10.6 or windows XP, please contact us, you will need UVI Workstation v2.5.8 and earlier versions of the UFS files, keep in mind that this older version requires the use of an iLok dongle and that some of our most recent products will not be compatible.
Technical description
1.72Gb uncompressed, 750Mb compressed in lossless flac format, around 2500 samples.
6 Velocity layers for the sustain (two round robins, so 12 samples per note).
15 Velocities for the release.
Hammer on samples.
Pick, muted and mick muted samples.
String noises played randomly.
Harmonics, ghost notes, string hits samples.
Advanced UVI scripting giving you access to a simple yet powerfull interface and advanced features.
iLok or computer based




We use the iLok system to protect our products and you can choose to register your license to your computer or to an iLok dongle.
If you decide to use an iLok dongle, both V1 and V2 are compatible with our products.
You can activate your license on up to 3 computers or iLok dongles at the same time and you can deactivate one and activate another as many times as you want.
Registration
Once your order is complete, you will be provided with a serial number.

You will then be able to register it to your iLok account from our website

on this page

(you need to be logged in to access this page). The whole process is described in the

FAQ

(instructions + screencast).
Write a review
First Name:
Your Review:
Note:

HTML is not translated!
Rating:
Bad
Good