The Mark79 is based on a 1979 Mark II 73 Keys Electric Piano from 1979.
The first Mark II were identical to the Mark I's in terms of sound generation part, meaning that the hammers, hammer tips, the tines and the amplification were the same as the late Mark I models.
That being said, there is a noticeable difference when compared to the early Mark I models, the tines were not made of the same exact material and ended up producing a more even sound with a bit lett highs and more controlled bass. the attack and sustain characteristics changed a little as well.
All this added to the hammer tips changes makes the MarkII sound different from an early Mark I and deliver the tones of the well known Chick Corea's "Return to forever" sound.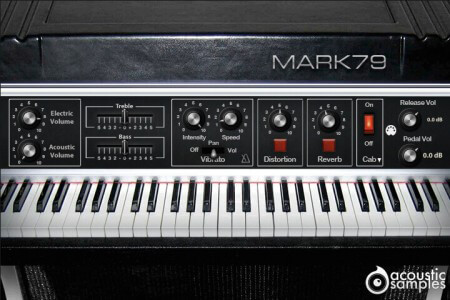 Authentic tine sound
We recorded the Mark79 from both the direct output using a state of the art DI (Universal Audio Solo 610) and also using a pair of microphones right above the keys next to where the head of a player would be.
With our precise resonance model, our detailed staccato and release adjustments and the meticulous velocity layer transitions, the Mark79 is truly the most detailed and accurate recreation of the famous tines electric piano sound.
more...
Amp simulation
We have been looking for the most widely used amps with Electric Pianos and we created advanced impulse responses of them. Here is a list of the Amps that you can choose from:
Rhodes Amp mono ans stereo and at different distances,
Twin Reverb,
Twin Reverb wide stereo mics,
Bassman,
SilverFace,
Mesa,
Gibson,
Fender 212
You can of course turn it off and use you preferred amp simulation software.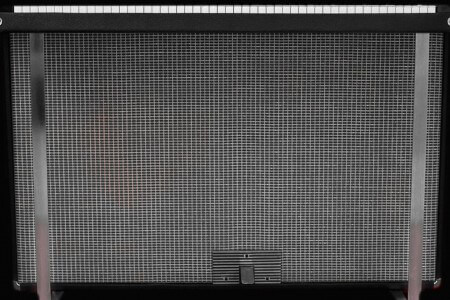 Built in FX selection
The Stereo pan is the signature sound of the Electric pianos, you can control its depth and rate and even change it to a volume tremolo.
We also included a few FX that you can control from the front interface.
A two band EQ with Bass and Treble controls
A tube distortion
A Spring reverb
An amp simulation wirh different cabinets
MIDI controls
As always with our libraries, you have a complete control over the response of the library. The Velocity Sensitivity changes the volume curve of the library.
The Dynamics will set the minimum volume for velocity 1 and give you access to all the dynamics that you want.
The velocity curve remaps midi input and will give it a concave or convex shape thus changing some sort of a "MIDI sensitivity".
more...
Sample player
Mark79 comes with its own sample player, the UVI Workstation 3 (requires v3.1.6 or later).
We provide it for free with every library that you buy, you don't need to buy an expensive sampler to use our products. It works on Mac (10.14 or later intel or arm processor) and PC (windows 10 or later), in standalone or as a plugin (VST / VST3 / AU / AAX ) and in 64 bits only. You can find more info about it here.
Technical description
3.45Gb uncompressed, 523Mb compressed in lossless flac format, around 2532 samples.
10 Velocity layers for the sustain.
10 Velocities for the release.
Time based release samples for accurate staccato sound.
Sustain pedal noises (up and down), triggered automatically.
Independant mix of the acoustic/electric sound.
EQ.
Autopan simulation.
Tremolo simulation.
Saturation effect.
Amp simulation.
Spring Reverb.
Advanced UVI scripting giving you access to a simple yet powerful interface and advanced features.
iLok or computer based




We use the iLok system to protect our products and you can choose to register your license to your computer or to an iLok dongle.
If you decide to use an iLok dongle, both V1 and V2 are compatible with our products.
You can activate your license on up to 3 computers or iLok dongles at the same time and you can deactivate one and activate another as many times as you want.
Registration
Once your order is complete, you will be provided with a serial number.

You will then be able to register it to your iLok account from our website

on this page

(you need to be logged in to access this page). The whole process is described in the

FAQ

(instructions + screencast).
Add review
After searching for a realistic rhodes VST for a while, very few are good, a lot are horrible but almost none of them create that ''magic'' that Rhodes pianos always had. Serioulsly, it just sounds SO HOT, SO WARM and with the distorsion knob it barks like.... OMG. No it's not a MARK 1 replica but you know what, I really don't care at all since it sounds so good with very realistic controls. It never sounds thin, fake or sampled. It also cut in a mix and through a live band like nothing else I have tried before. IT might not be a real Rhodes but it's also much lighter and much less expensive ;) but sounds exactly the same. Buyers hurry up since black friday ends real soon, you won't be disapointed.
http://reviewrevival.weebly.com/reviewers-blog/acousticsamples-mark79-review-let-there-be-rhodes
I'm very happy with this library. The attention to detail is impressive and the sound is fantastic. These guys have great taste for what they sample and I dig that. Keep them coming!
Add review