Based on real tonewheel samples and fully modeled: from the tonewheel pickups and the AO-28 amp to the resistive wires, to the drawbars and key contacts... Everything has been carefully measured on different models and adjusted to match real organs.
The true sound of an organ with the flexibility of synthesis.
Hammond organs are complex beasts, full of wires and mechanical parts. Until now, the best renditions (short of a real organ) were made using pure synthesis, mainly because the organ works using a set of 91 frequencies that are connected via contactors under each key and whose volume is controlled by the drawbars. Sample-based libraries consist of stacking drawbar samples at the same time - this works, but causes a major problem: sometimes you play the same frequency twice and because of phase cancellation, you never get the same sound twice when you press the same keys. We created a way using the 91 frequencies synthesis approach - but with real samples - offering the opportunity to enjoy the best of both worlds: a real recorded organ tone plus the real mechanical behavior, but with the added benefits of functioning drawbar controls and synthesis tweakability.
B-5 V3 vs real Organ and real Leslie 122 comparison
The B-5 Organ V3 interface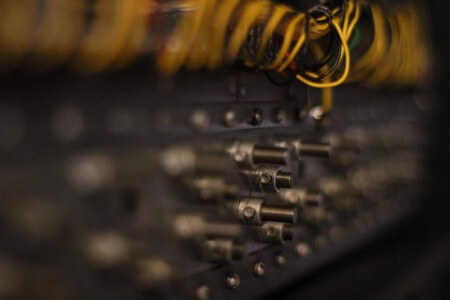 Sample based synthesis
There are elements of the Organ sound that can't easily be faked: tonewheels, keyclicks, vibrato scanner... so we simply sampled them.
We then meticulously reproduced the whole signal chain; tonewheel pickups, resistance wires, AO-28 frequency response, drawbars, swell pedal, percussion circuit, as well as all of the controls available on a real organ. Even the small wiring and electrical peculiarities have been reproduced, such as foldback, internal noise, leakage and even more complex features such as tone control, loudness robbing, voltage stealing etc.
more...
Rotary Speaker Simulation
Version 3 is an entirely new Leslie simulation, much more detailed and true to the 122A recordings.
You can choose between a few different Leslie models for each rotor: a 122, a 147, a 3300 and a few other variations.
It is also completely adjustable: microphone positions, angles, distance, and volume, pan, speeds and acceleration times can be modified independantly for each rotor.
We added three new features: driver distortion, microphone bleed and room simulation and combined with our V3 model, they make for an ultra realistic Leslie sound.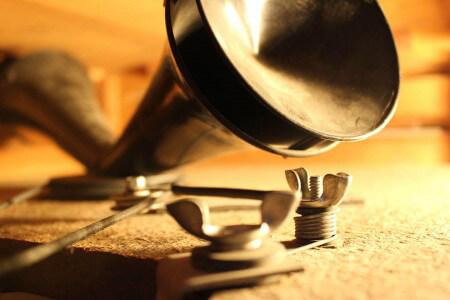 more...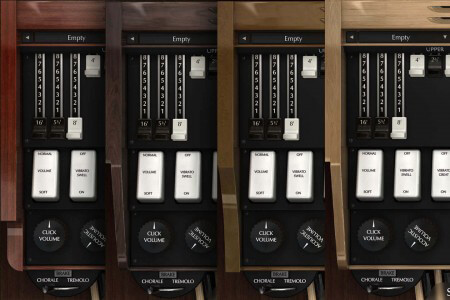 Hundreds of models
All of the tonewheel organs sound different, each of them has a particular voicing, and that's mostly due to the distance between the tonewhels and pickups but also to the aging of the capacitors.
With the help of Kon Zissis, who has been servicing and measuring organs for many years, we were able to incorporate 150 unique organ voicings from many different models (A, AV, B, B2, C2, BA, BC , CV, B3, C3, A100, RT3 and a few others).
We also sampled 4 iconic models (1968 B-3, 1960 C-3, 1969 C-3 and 1965 A-100) whose different tonewheel sounds you can switch between.
The combination of tweaking of the voicings with manual tapering options allows you to shape virtually any organ model and sound possible.
more...
FX Panel
On top of our Leslie tube saturation, we added a panel of 7 FX.
It includes chorus, phaser, delay, overdrive, fuzz, wah (which can also be an auto-wah) and reverb (spring, plate and real room variations).
These FX are pre-Leslie, except for the reverb, which can be pre or post.
Now you can truly recreate the sound of any organ or song, including progressive rock!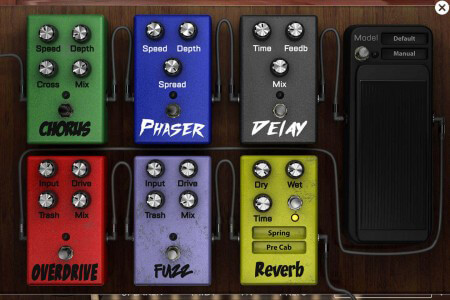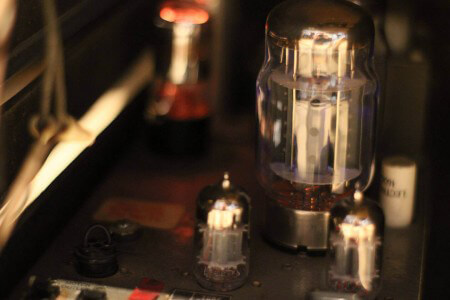 Tube saturation
The tube saturation on a Leslie 122 is very different from what you hear from other tube amps.
We completely redesigned it in version 3 to match real recordings even more accurately.
Advanced Percussion System
The percussion on an organ is not just an addition of samples, it is a general volume decay envelope triggered by the first note you play, which is not restarted until you release all the keys.
We recreated it so meticulously that you can hear a percussion sound when you turn it on or change from second to third! You can even customize the time, volume and frequency to make it sound like "paradise".
It is also completely tweakable: you can edit the volume for the normal and soft settings (as well as decay times), decide on which harmonic is played and even control the recharge time.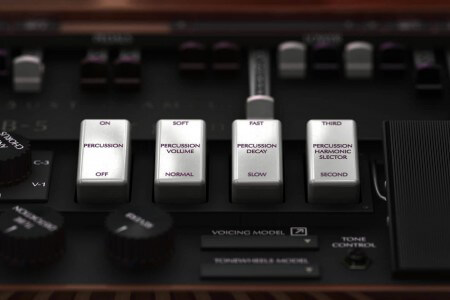 more...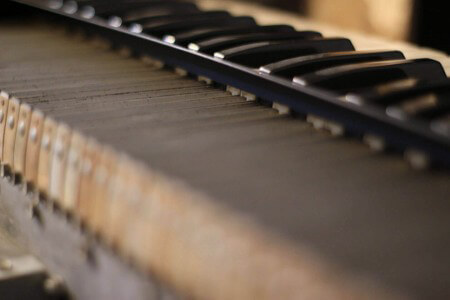 Real Key Contact Modeling
There are 9 electric contacts under each key, and each of them produces a small click, but they don't all happen at the same time. Also, the intensity and timbre of each click depends on the phase of the tonewheel signal when the circuit is closed.
Mr. Hammond hated them, but it wouldn't be a Tonewheel organ without them.
We completely recreated this for version 3. The progressive 9 contacts are now simulated with velocity, and the variation of timbre and volume is now based on the current phase of the tonegenerators.
You can also control their overall volume and timbre.
Organ Modifications
Every organ player likes to tweak their instrument, so all the modification that organists can do are available.
- Paradise button
- Percussion always on
- Percussion volume decrease
- String Bass
- Foldback removal
And many other mods... but without having to solder or unscrew the whole thing.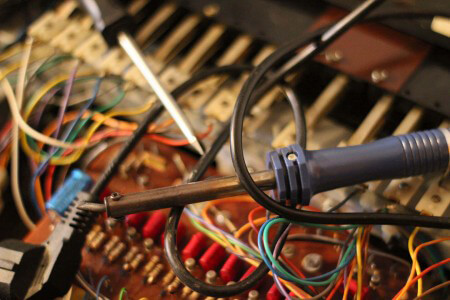 more...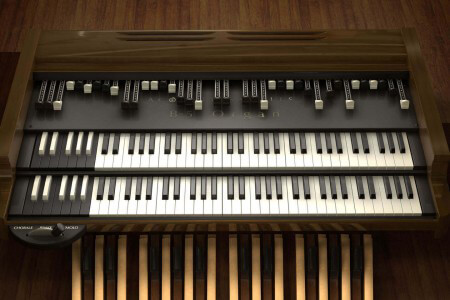 All Three Keyboards
On a real organ there are 3 keyboards, two of which are almost identical except for the Percussion system, plus the Bass pedals.
You can choose to use 3 different MIDI channels, one for each keyboar,d or you can use Split to have all three on one keyboard.
In version 3, we decided to extend the capabilities of the Bass pedal manual.
On a real organ, the Bass pedals drawbars are a fixed combination of 8 frequencies, but in the V3, we give you access to that mix and the first 12 tonewheels that produce complex tones can also be filtered out to be closer to a sine wave.
We also extended the range of the Bass manual to 32 notes to match the RT3 model.
If you don't have pedals on your controller, you can also remove the bass foldback for the Upper and Lower manuals to access deep bass without them.
You can also enable the stringbass mod with control over the sustain.
more...
Presets
In the version 3, we completely reworked the preset system.
They are now global and will save everthing, but you still have access to around 200 drawbar presets that you can load, save, delete or assign to the preset keys (upper and lower), and these include the most used Jazz, Gospel and classical presets.
The preset keys (Bleck Keys to the left of the range) can also be customised and will allow you to easily change drawbar settings while playing.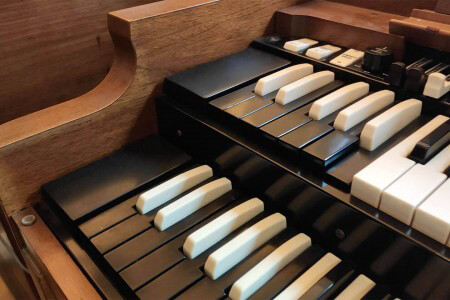 more...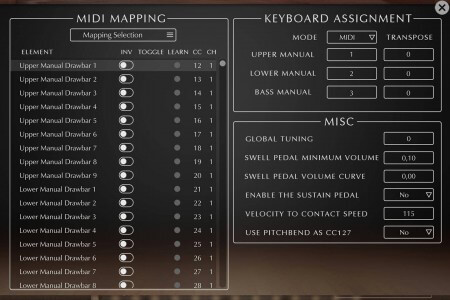 MIDI assignment and controllers
Every element of the interface can be assigned to any MIDI CC and Channel easily using our assignment panel or our MIDI Learn function.
To make things even easier, we included a few mapping presets for the most common organ clone controllers, this includes, the XK and SK series, all Nord keyboards, the Crumar, the HX3, the B4D and some others.
We even included most tweaks required by some controllers like the inversion of the drawbar movement or the toggle for the leslie speed.
The volume pedal is a crucial element when playing the organ and you have the possibility to adjust the curve and range of the volume and filter affected by the pedal.
more...
Sample player
B-5 Organ V3 comes with its own sample player, the UVI Workstation 3 (requires v3.1.6 or later).
We provide it for free with every library that you buy, you don't need to buy an expensive sampler to use our products. It works on Mac (10.14 or later intel or arm processor) and PC (windows 10 or later), in standalone or as a plugin (VST / VST3 / AU / AAX ) and in 64 bits only. You can find more info about it here.
Technical description
UVI Workstation v3.0.15 (delivered with every purchase) or Falcon 2.1.1 is required for the library to function properly.
900Mb compressed in lossless flac format, around 1800 samples for each tonewheel model.
Version 3 changelog:
- Interface redesign, upon user request, the switches are now arranged like on a real B3.
- New preset system. Saving a preset is now global and will save everything, including the voicing and the tonewheel model.
- Separation of the "brake" and Leslie speed features, they can now be controlled separately.
- To add variety, the voicing is now separate from the tonewheel models.
- In collaboration with Kon Zissis, we incorporated a new electrical chain model and were able to add about 150 Voicing models (A, BC, A100, B3, C3, RT3) that he measured over the years from various models and using different capacitors, old and new and different voicings, following the different Hammond technicians regulation.
- These voicings can be changed manually using a large table.
- To go with these voicings, we offer the choice to add/remove manual tapering or even to use a hybrid manual tapering that will get older models like the A to have both bass and treble (will explain that in detail).
- New "TONE CONTROL" knob that simulates the tone control potentiometer present inside the real Hammonds that allow to control the overall brightness of the organ, it's not a simple filter, it's a voicing element that acts on the 91 tonewheels before the whole drawbar system.
- New FX panel with Chorus, Phaser, Delay, Wah (and auto Wah), overdrive and fuzz that come between the tone generation and the Leslie Amp. You can also choose between a spring reverb, a plate or a real room and you can put it pre or post Leslie.
- The tube distortion has been completely changed to match the AO-28 amp distortion.
- Entirely new Leslie simulation, much more detailed and true to the 122A recordings. You can now mix (volume and pan) the Leslie signal with the DI and also an additional guitar cab. You also have control over the crossover filter to simulate the aging of the capacitors.
- Addition of the "room simulation" that allows you to put the Leslie in a less Dry environment.
This update also includes the following new features that are available independently for each speaker (ie, Horn and Drum):
- Speaker distortion
- Pan
- The acceleration and deceleration curves have been reworked and you can also add some speed variations to replicate the imperfections of the Leslie motor.
- Microphone position around the Leslie
- Microphone angle (from mono to very wide stereo)
- Microphone distance, from 2' to 36' (5cm to 90cm)
- Microphone bleed
- Memphis option (one of the speaker's rotation is just stopped while the other one is still functional)
- Fixed or natural brake position.
- An amplitude modulation enhancer for a stronger wobbling effect.
- The deflector can be removed from the Horn and the Back panel can be removed from the Drum.
- New MIDI panel with control over the inversion, the toggle, MIDI C and MIDI Channel for each element.
- MIDI learn function for each element, all you have to do is click next to the control name and move a MIDI controller.
- You can now save and reload your MIDI Mapping.
- You can now use the Pitch Ben as a MIDI CC (CC127) to control whatever you want.
- Improved vibrato and chorus thanks to a new phase lock model.
- Pedal drawbars CPU efficiency improved.
- Pedal keyclick fixed to match the real ones.
- Pedal range extended to 32 notes to match the RT3 model range.
- CPU load reduced on the swell pedal.
- Control over the pedal harmonic mix
- Added mod for sine sound on the 11 first complex tonewheels
- Added MOD to have the percussion playing all the time with no volume drop.
- Added control over the crosstalk (leakage)
- Added control over the Keyclick Brightness.
- The click volume is now smooth and can be changed in real time.
- The acoustic sound of the pedals is now from real pedals and not manual keys anymore.
- Added the ability to disable the foldback.
- Click sound improved with much accurate volume and tone variation.
- Better control over the drawbar preset list which can now be organized, modified, saved, loaded and reset.
- Addition of a panic button that will stop all running Tone generators.
- Better control over the black keys presets, they can now be deactivated for users that accidentally triggered them while playing.
- Extended the pedal range to 32 notes to account for the RT3 pedal range
iLok or computer based




We use the iLok system to protect our products and you can choose to register your license to your computer or to an iLok dongle.
If you decide to use an iLok dongle, both V1 and V2 are compatible with our products.
You can activate your license on up to 3 computers or iLok dongles at the same time and you can deactivate one and activate another as many times as you want.
Registration
Once your order is complete, you will be provided with a serial number.

You will then be able to register it to your iLok account from our website

on this page

(you need to be logged in to access this page). The whole process is described in the

FAQ

(instructions + screencast).
Add review
Great product (B-5 V3)! Lots of grit and soul. Took some tweaking to get it to feel right. Ended up using V2 for upper rotor (like the sim better) and V3 for lower (like the frequency response better). Adjusted fast speed on rotors, increasing lower motor AM, combining C3 1960 tonewheel set with another voicing set. Overall, incredible sound and ability to edit. Much lower on system resources than B-3X, which allows me to play with very low buffer rate/ latency. I own the real thing, and while all digital recreations have limitations, this is very satisfying, and light years ahead of what was previously available.
Here is my review of B5 from the perspective of a Gospel musician!
Amazing work from AS on B5! I'm not a Rock or Jazz musician but I'm straight Gospel. And when you dial in the right Leslie setting and overdrive, you get that classic COGIC organ instantly! Ready to growl, rumble and scream at will! The video linked is me playing this during a live church service.
Well done! Honestly, this latest update is outstanding. The biggest thing I've noticed is that chords sound so much more natural and not "synthy" sounding like some chords did in the earlier versions. Love'n this app!
Very impressive Hammond organ simulation! I am very satisfied with the purchase. Unlike other VST, this is the best for me !!!
You can read the review here: http://reviewrevival.weebly.com/reviews/acousticsamples-b-5-v2-review-virtual-tonewheel-organ-done-right
Matt Vanacoro is notorious for his exacting standards when it comes to Hammond sounds and instruments. So he was pleasantly surprised to find that the Acousticsamples B-5 V2 had it all... Read more here: https://ask.audio/articles/review-acousticsamples-b5-v2
Here is a thorough review of the B-5 V2 by John Mike
Here is a quick video introduction by phil curry of the B-5 Version 2
Sorry but I couldn't agree with any of the previous reviews at all and wondered what the fuss was about because version 1 was a let down for me , mainly because of the Leslie simulation. I downloaded the upgrade to version 2 and boy, this is the best and most comprehensive Hammond plug in to date. The "Leslie" has been completely redeveloped and really sounds wonderful. Congratulations! My go to was always NI B4 ver2 but it'll be this one from now on!
Warm, tridimensional realistic ...and the sampled vib/chorus has all the nunces of the real thing inside, simply because IT IS the real thing recorded, so beats any V/C virtual effect
I have fallen in love with this software organ. The sound has that "swoosyness" and "woodiness" of a real Hammond B3/C3/A100. Especially the lowest ans highest octave sound like Hammond Heaven. This will be an everlasting love! Thank you…thank you…
Been playing many many organ plugins, but this one take its price!! sorry for the language but this thing is damn fucking amazing!. Compared to others this one really has a special respond with the keys and the sound that i never experience with other organ clones. 10/10 - And Badass Seal of Approval.
You can read the review in french here: http://fr.audiofanzine.com/orgue-virtuel/acousticsamples/b-5-organ/editorial/tests/b-cinquieme-du-nom.html
This is just amazing. Thatnks for such a fantastic model. Feels as good as it sounds. By far the best B3 emulation!!!
Nice video review of the B-5 Organ by Pro Tools Expert https://www.youtube.com/watch?v=SH8HWWJs1mk
I'm blown away, love it! Thank you very mutch for this!
Add review