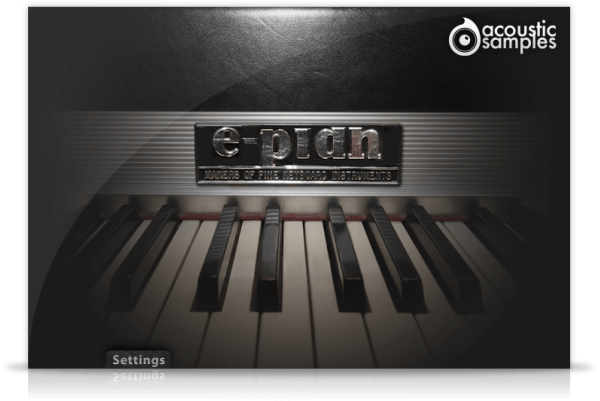 The E-Pian is a Classic 73 Keys Electric piano from 1972 recorded with the direct output plugged into a tube preamp.
The tines were adjusted in a way that very few overtone was present giving this piano more warmness. This particular instrument was in a "normal" condition, which means that it was not properly restored, a few keys were not sounding right (and we sampled it before and after fixing those keys).
This might be the rhodes you will find on stage, five minutes before the beginning of your concert!
Default interface

This is the default interface of the plugin. If you want to access the effects and the advanced parameters, click on presets.

Settings

In this panel, you can change most of the aspects of the library to make it sound just like you want.
You can adjust:

EQ, Bass and Treble: a parametric EQ with the two knobs available on the real EP.
The release Volume: the sound produced when you release a key if a note was going on.
The Pedal Noise: the sound produced when you press or release the pedal, it adds a lot to the realism.
Original/Cleaned: the original electric piano had a few non perfect keys that we decided to sample anyway, we also fixed them.
The Sensitivity will set the minimum volume for velocity 1 and give you access to all the dynamics that you want.
The Reverb: We used an IR of a spring reverb to mimic the most used reverb on this kind of instrument.
Cabinet: You can turn on or off the amp simulation (based on a Fender 212 cabinet).
Tremolo: the stereo pan of electric pianos is really a part of the sound, here you can control the amount and speed of it.
Sample player
E-PIAN comes with its own sample player, the UVI Workstation 3 (requires v3.1.6 or later).
We provide it for free with every library that you buy, you don't need to buy an expensive sampler to use our products. It works on Mac (10.14 or later intel or arm processor) and PC (windows 10 or later), in standalone or as a plugin (VST / VST3 / AU / AAX ) and in 64 bits only. You can find more info about it here.
Technical description
2.58Gb uncompressed, 389Mb compressed in lossless flac format, around 3465 samples.
13 Velocity layers for the sustain.
up to 26 Velocities for the release.
Sustain pedal noises (up and down), triggered automatically.
EQ.
Tremolo simulation.
Amp simulation.
Spring Reverb.
Advanced UVI scripting giving you access to a simple yet powerfull interface and advanced features.
iLok or computer based




We use the iLok system to protect our products and you can choose to register your license to your computer or to an iLok dongle.
If you decide to use an iLok dongle, both V1 and V2 are compatible with our products.
You can activate your license on up to 3 computers or iLok dongles at the same time and you can deactivate one and activate another as many times as you want.
Registration
Once your order is complete, you will be provided with a serial number.

You will then be able to register it to your iLok account from our website

on this page

(you need to be logged in to access this page). The whole process is described in the

FAQ

(instructions + screencast).
Add review
The more I use this EP the more I like it. It has a wonderful warm rich tone that really lends itself to jazz. It is beautifully sampled and sounds amazing. On a spectrum of super smooth to loud bark this EP is more on the smooth side. The low notes have a rich dark flavor while the high notes have a smooth pleasant ring. One good thing about this piano is that it has a very full sound and doesn't sound at all "thin" like some other EPs out there. It is probably not an all-purpose Rhodes library (if there is such a thing), but overall it is a top quality EP with a lovely unique sound.
http://rekkerd.org/review-acousticsamples-e-pian/
The e-piano immediately reminded me of the "Peanuts"- series with Charlie Brown, Snoopy etc. back in the 60s. It has a very distinguished sound I cant find in other sample libraries or rhodes sounds. Since I only buy sounds that I know I can use in EVERY song that I write, design or compose this is one of the very rare sounds that enriches anything with it`s warm, musical and round sounding character. An e-piano with warmth, vibe, flair, charme, special 60s Peanuts-style flavour you cant live without ... ! Love it ! Every musician should have a copy ...
Add review