The B-5 Organ updated to v1.2
May 31 2016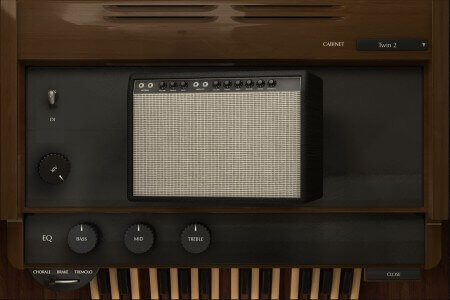 The B-5 Organ, a sample based Organ that uses synthesis techniques
The B-5 Organ seems to have generated a lot of interest and we are very happy about it.
As for every new product, there is always room for improvement, so we checked all of your reports, questions, and feature requests and added the most common and relevant ones.
Since the list started to be a bit long, we figured it deserved a new version number, so there you go, the v1.2 is out (and available in your account if you purchased it).
We also have updated the webpage to explain how to use all of these features.

New features
Here is a list of the new features.
1- We added a list of regular amp simulations to use instead of the Rotary Speaker (shown in the image of this email and demonstrated in the last two demos of our website by our friend Scott Yahney).
2- You can now use the sustain pedal to sustain notes like on a piano.
3- We added a distance knob to control the distance of the microphones to the speaker. This allows you to add more or less ambience (it's subtle and needs to be tweaked without the reverb on, but allows for the organ to be very dry).
4- We now offer the ability to disable the preset keys (to avoid playing them by mistake).

The following might already be in the previsous version that did not have a new number.
5- You can use on/off MIDI buttons to change the interface buttons like the percussions for example.
6- You can use the sustain pedal (or any other continuous controller) to toggle the speed of the Leslie everytime you press it (instead of having to leave it pressed).
7- You can now raise the overall volume of drawbars above 1 in the advanced preferences (this avoids changing all drawbars volumes but one).
8- A better support for non-retina displays with increased text size on the main interface.
9- There are a few other minor fixes and improvements
We also would like to use this opportunity to show you this great review of the B-5 Organ by Pro Tools Expert.
The B-5 Organ, synthesized with samples
May 04 2016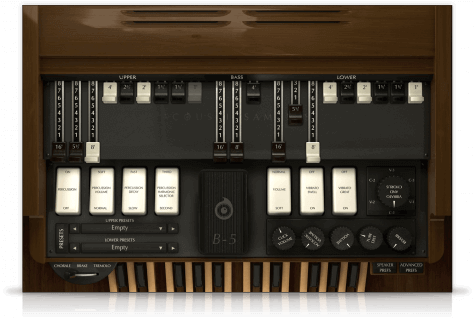 The B-5 Organ, a sample based Organ that uses synthesis techniques
The Hammond organs are very complex beasts, full of wires. Until now, the best renditions were synthesis, mainly because of how the organ works which is a set of 91 frequencies that are connected via contactors under each key and which volume is controlled by the drawbars.
Sample based libraries consist of stacking drawbar samples at the same time which works, but causes big problems.
We have found a way to use the 91 frequencies synthesis approach, but using real samples, so we get the best of both worlds, the real recorded organ tone plus the real behavior and we keep access to the versatility of the drawbar controls and the tweakability of synthesis.

Main features
Here are the main features of the B-5 Organ.
Sample based synthesis: We sampled each of the 91 tones and then measured and meticulously reproduced everything, the key contacts, the resistance wires, the foldback, the drawbars, the swell pedal, the percussion, and every button available on the original machine.
Rotary Speaker Simulation: An organ without its rotary speaker isn't an organ. We provided UVI with very detailed measurements and they created an incredible physical model.
Advanced percussion system: We recreated the whole percussion system and you can customize every aspect of it.
Real key contact modeling: 9 contacts are made one after another under each key and each of them produces a small click, making this the only influence of the velocity and resulting in a different click sound each time you press a key.
All three keyboards: On a real organ, there are 3 keyboards, two of which are almost identical except for the percussion system, and the bass pedals. You can choose to use 3 different MIDI channels, one for each keyboard or you can use the split to have all three on one keyboard.
Presets: There are around 200 drawbar presets that you can load, save, delete or assign to the preset keys (upper and lower), and these include the most used Jazz, Gospel and classical presets.
Organ modifications: Every organ player likes to tweak his instrument, so every modification that organists can do is available here.
The B-0 Organ is using the latest features of the UVI engine, and UVI Workstation 2.6.5 is required to use it.
For a full list of features of the B-5 Organ, visit the B-5 Organ page, listen to the audio demos and watch the presentation video.
2015 Christmas Sale 30% off and more!
Dec 15 2015
2015 Christmas Sale, 30% discount plus up to 20% off if you purchase more than one library!
Our activation system even allows you to offer a library to someone.
Just order a library from the website you will get a serial number and all you have to do is offer it to someone, he will then just have to create an account and authorize his serial number and the link will be generated right away in his own account.
The 30% discount may be combined with our quantity discount available all year.
The more you buy, the highest discount you get:
5% off the discounted total for 2 items
7% off the discounted total for 4 items
10% off the discounted total for 5 items
12% off the discounted total for 6 items
13% off the discounted total for 7 items
15% off the discounted total for 8 items
18% off the discounted total for 9 items
20% off the discounted total for 10 items

* The discounts are available on everything but the Ircam Prepared Piano.

2015 Black friday sale
Nov 27 2015

Black Friday Sale until Sunday night.
Now is the time to get your Acousticsamples library!
Today and until Sunday night, you get 25% off everything except for the Ircam Prepared Piano.
Don't miss it!
The Super II is out!
May 06 2015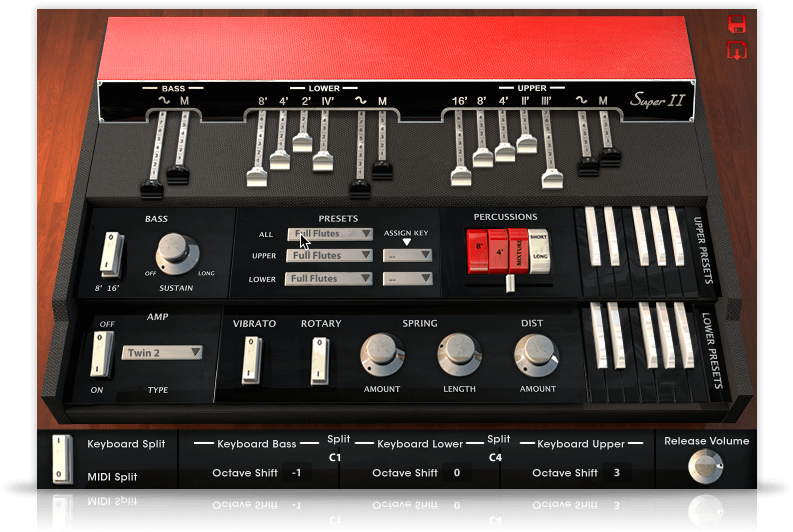 The new Super II, a 60's combo organ library by Acousticsamples
We sample mostly acoustic instruments, but we also love our vintage organs, and the VOX continental is one of them. We found a rare VOX Super Continental with a dual keyboard, a percussion system and a pedal keyboard, so all of the feature you can have considering the number of different models available.
We sampled every drawbar from every keyboard both with and without the highly recognizable vibrato to get you the widest sound palette you can get.
We also loaded it with effects, especially cabinet simulations, spring reverb and distortion which adds to the large amount of effects available in our player.
You can also play bass with it and play it the way it was intended with the "sustain" and "legato up" features.

Main features
Here are the main features of the Super II library.
Keyboards and drawbars: We sampled all 3 keyboards and all drawbars for each of them.
FX Section: We sampled the original Vibrato and also added an amp simulation as well as 25 cabinet / microphones combinations, a rotary speaker effect and also a spring reverb and a distortion effect.
Bass Simulation: You can play bass with the "sustain" and "legato up" features.
Presets: You can browse through a large selection of presets, save your own and share them with other users.
MIDI Separation: Each keyboard can be set to respond to different MIDI channels or you can play them all by splitting them across the keyboard.
Lossless compression: The Super II is using the popular flac lossless compression format (UVI Workstation 2.5.12 is required to use it) to increase the streaming performances and loading time without loosing any audio quality. You also save space, the library goes from more than 500Mb uncompressed to 250Mb.
You can learn more about the Super II, listen to audio demos on the Super II page.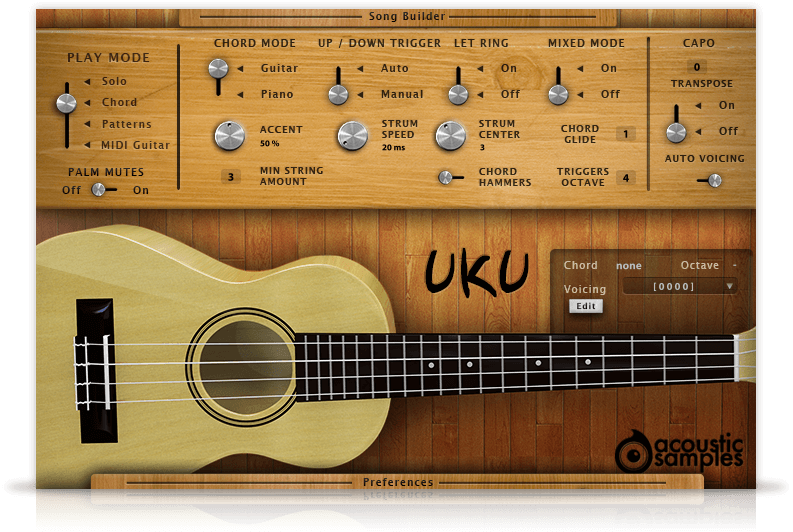 The new UKU, a full featured Concert Ukulele by Acousticsamples
If you liked the Sunbird, the GD-6 Acoustic Guitar and the Telematic, you will love the UKU!
Unlike many other ukulele sample libraries, UKU can both play strums and solo notes, but not only! You can play any chord, any voicing, and even create your own, even impossible ones and play them using finger strumming, finger picking or patterns. We used a very common Kala 4 strings concert ukulele (GCEA tuning) and sampled it very deeply, all frets of all strings with upstrokes, downstrokes, round robins, releases, staccatos, mutes, palm mutes, hand blocks, slides, hammer ons, pull offs, retriggers, fretnoises, percussions other articulations. All of these details allow us to reproduce the real playing of a ukulele player, and easily.

Main features
Here are the main features of the UKU library.
Strumming machine: The UKU can strum, in various ways, up, down, muted, in legato and allows finger picking.
Chord recognition: Recognizing a chord is made through a database of thousands of standard ukulele chords, and you can edit every one of them or add your own.
Realistic patterns presets: You can choose from a large selection of patterns to create a full song in a few clicks.
Pattern maker: Creating realistic ukulele patterns has never been easier. You can create strumming, picking, or finger picking patterns in seconds and then share them with other users.
Song Builder: Sometimes playing a series of chords can be complicated, especially if you are not an advanced keyboardist. The song builder allows you to decide which chord will be triggered when selecting only one note.
Lossless compression: The UKU is using the popular flac lossless compression format (UVI Workstation 2.5.10 is required to use it) to increase the streaming performances and loading time without loosing any audio quality. You also save space, a lot, the library goes from more than 1Gb uncompressed to 260Mb.
You can learn more about the UKU, listen to audio demos and watch the presentation video on the UKU page.