The Hammond organs are very complex beasts, full of wires. Until now, the best renditions were synthesis, mainly because of how the organ works which is a set of 91 frequencies that are connected via contactors under each key and which volume is controlled by the drawbars.
Sample based libraries consist of stacking drawbar samples at the same time which works, but causes a big problem, sometimes you play the same frequency twice and because of phase cancellation, you never get the same sound twice when if you press the same keys.
We have found a way to use the 91 frequencies synthesis approach, but using real samples, so we get the best of both worlds, the real recorded organ tone plus the real behavior and we keep access to the versatility of the drawbar controls and the tweakability of synthesis.
B-5 V2 vs real Organ and real Leslie 122 comparison
The B-5 Organ V2 interface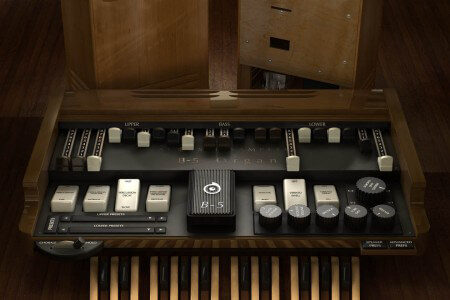 Sample based synthesis
We sampled each of the 91 tones and then measured and meticulously reproduced everything, the key contacts, the resistance wires, the foldback, the drawbars, the swell pedal, the percussion, and every button available on the original machine.
To also get the best possible vibrato/chorus effect, we also sampled all 6 settings and carefully phase aligned everything.
Synthesis model based on samples, to get the authentic sound and the real mechanic behaviour.
In the version 2, we improved the precision of our initial model and added an electrical simulation with effects like the loudness robbing and the voltage stealing.
more...

4 different iconic models
All of the tonewheel organs sound different, each of them has a particular voicing, a different vibrato, different percussion volumes and curves, tone generator sound and volume, click sound, harmonic leakage and many other aspects.
We sampled 4 different models, a 1968 B-3, a 1960 C-3, a 1969 C-3 and a 1965 A-100 and extracted all of the particularities of each model.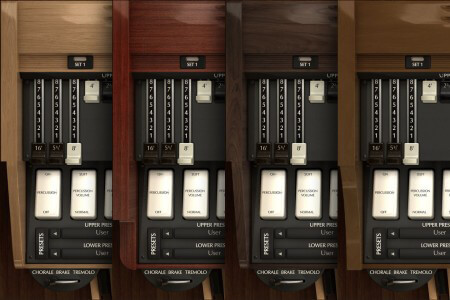 more...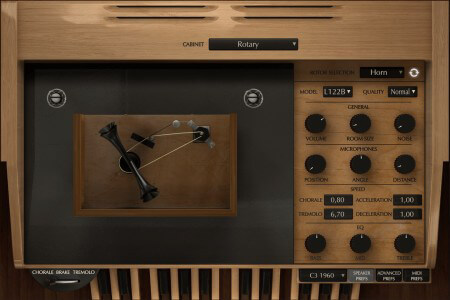 Rotary Speaker Simulation
The version 2 of our rotary speaker simulation is simply the best one available today.
We provided UVI with extensive measurements of our Leslie model 122 for both the horn and the bass rotors and they came up with an extremely accurate simulation of all of the phasing effects and pitch modulations.
We added a large variety of impulse responses at different microphone placements, and you can control all of the Leslie parameters differently for both rotors independantly.
We even added extra amplifier simulations to extend the B-5 Organ sound capabilities.
more...

Tube saturation
The tube saturation on a Leslie 122 is very different from what you can hear on other tube amps.
We provided UVI with detailed measurements of the response of the Leslie 122 amp and adjusted it precisely to those measures. We also simulate the membrane saturaton of the horn rotor.
Both these effects combined recreate a very accurate saturation.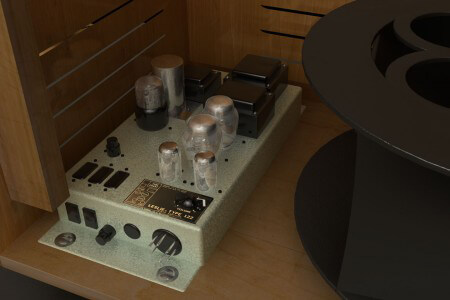 more...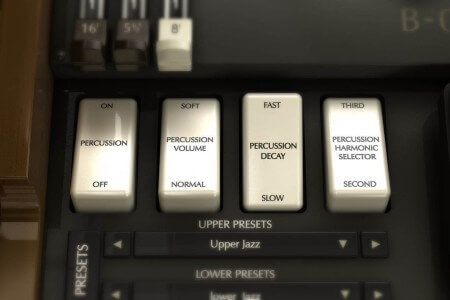 Advanced percussion system
The percussion on an organ is not just an addition of samples, it is a general volume decay envelope triggered by the first note you play and that is not restarted until you release all keys.
We recreated that meticulously, so much that you can hear a percussion sound when you turn it on or change from second to third.
You can even customise the time, volume and frequency used and make it sound like "paradise".
The version 2 includes a much more precise percussion curve and attack and is now linked to the B preset key and second set of drawbars.
more...

Real key contact modeling
There are 9 electric contacts under each key, and each of them produce a small click, but they don't all happen at the same time, making this the only influence of the velocity and resulting in a different click sound every time you press a key.
Mr Hammond hated them, but a Tonewheel organ would not be one without them.
We completely recreated that model for the version 2 and now allow you to control its volume and reaction to the velocity.
Each organ model has its own set of key clicks as well, and they all sound different.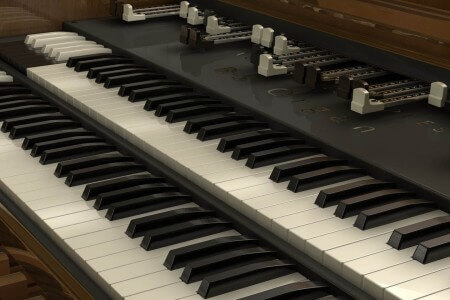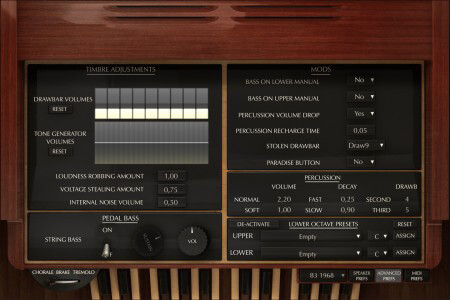 Organ modifications
Every organ player likes to tweak his instrument, so every modification that organists can do is available here.
From the adjustment of the drawbar volumes with resistance wires to the proximity of the pickups to the tonewheels or all of the known percussion modifications, you can tweak the B-5 like you would a real one.
Since the V2, we even allow you to control the volume of the electrical noise and the influence of the electrical artifacts.
more...

All three keyboards
On a real organ, there are 3 keyboards, two of which are almost identical except for the percussion system, and the bass pedals.
You can choose to use 3 different MIDI channels, one for each keyboard or you can use the split to have all three one one keyboard.
The Bass foldback can be removed for the Upper and Lower manuals to get access to the deep bass without the pedals.
The Bass Pedals tones are made of the 12 first tonewheels that have a different shape than the other ones, and consists of 2 pre-made combination of 8 frequencies, one controlled by each drawbar. Since the version 2, we included that model and we offer 4 different pedalboard combinations, one for each model we sampled.
You can also enable the stringbass mod with control over the sustain.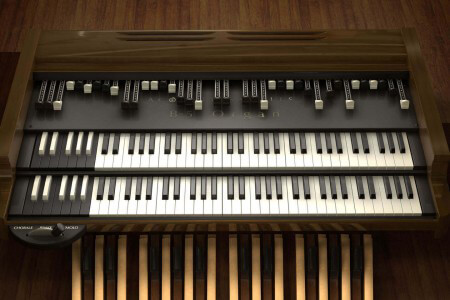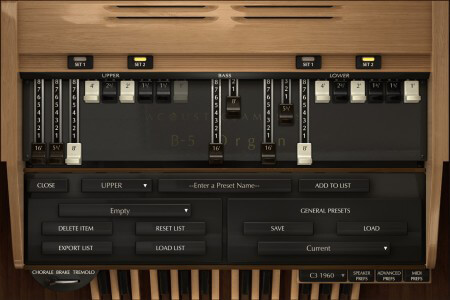 Presets
There are around 200 drawbar presets that you can load, save, delete or assign to the preset keys (upper and lower), and these include the most used Jazz, Gospel and classical presets.
We added general presets (some of them made by known artists like Mr Jim Alfredson) in the version 2 that contain all settings, you can also save and reload yours easily.
You can browse through them quickly and while you play to find the perfect sound for your compositions.
The preset keys can be customised and will allow you to easily change drawbar settings while playing.
more...

MIDI assignment and controllers
Every element of the interface can be assigned to any MIDI CC and Channel easily using our assignment panel or our MIDI learn function.
To make things easier, we included a few mapping presets for the most common organ clone controllers, this includes, the XK series, all Nord keyboards, the Crumar, the HX3, the B4D and others.
We included most tweaks required by some conytrollers like the inversion of the drawbar movement or the toggle for the leslie speed.
The volume pedal is a crucial element when playing the organ and we give the possibility to adjust the curve and range of the volume and filter affected by the pedal.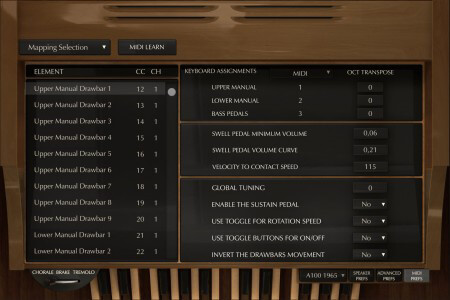 more...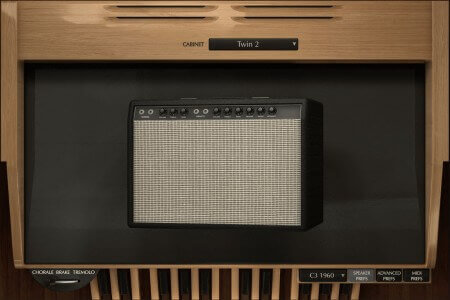 Alternative amplifiers
Vintage organs are used for Jazz, Blues and Gospel for which they usually use a rotary speaker, but for Rock and pop music, regular amps are used.
We added a few amp models that you can pair with the spring reverb, the vibratos and the saturation so that you can get the vintage rock sound very easily.
You can also use the version 1 of the leslie if you like the sound of it but with all of the new features and improvements.
more...

The sound as if you were in front of it
We like to make our libraries as realistic as possible, and that includes having the feeling that you are actually playing the instrument, so every acoustic sound that the real machine makes is there as well, including the leslie speaker, each model of Leslie speaker we sampled has its own acoustic noise.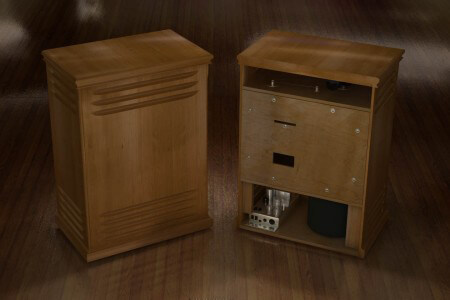 Sample player
B-5 Organ V2 comes with its own sample player, the UVI Workstation 3 (requires v3.0.0 or later).
We provide it for free with every library that you buy, you don't need to buy an expensive sampler to use our products. It works on Mac (10.9 or later) and PC (windows 8 or later), in standalone or as a plugin (VST / AU / AAX ) and in 64 bits only. You can find more info about it here.

Technical description
UVI Workstation v2.6.5 is required for the library to function properly, the B-5 Organ will not work on windows XP, or OSX 10.6, it will not work either on a receptor.
560Mb uncompressed, 275Mb compressed in lossless flac format, around 1200 samples.

- Real Tonewheel model, sample based, around 1100 samples
- Full control over the Drawbar settings
- Around 200 drawbar presets that you can change while you play
- Lower octave Preset keys (black keys) assignable for the Upper and Lower manuals
- Sample based Vibrato and Chorus for C1, C2, C3, V1, V2 and V3
- Fully customizable and accurately reproduced percussion system
- Precise swell pedal volume change (based on measurements)
- Real key contact modeling
- Foldback (adjustable in the bass end)
- All common organ mods available (foldback removal, paradise button, percussion drop fix, drawbar volume changes, stolen drawbar for percussions, recharge time, etc...)
- All three keyboards, Upper manual, Lower manual and bass pedals assignable to different MIDI channels or splitted on one
- String Bass system for easy legato basslines
- Very accurate and customizable Rotary speaker physical model made by UVI and based on our thorough measurements
- Control over the Rotary Speaker speed (chorale, brake, tremolo)
- Rotary speaker type selection
- Recording type selection (independant volume and miking technique for the horn and drum)
- Easy MIDI controller assignment, you can setup any drawbar controller or a simple keyboard very quickly
- Tube distortion, "before speaker" reverb and 3 band EQ.
- Keyboard, speaker, buttons and knobs acoustic sounds to feel like you're in front of the Organ
iLok or computer based




We use the iLok system to protect our products and you can choose to register your license to your computer or to an iLok dongle.
If you decide to use an iLok dongle, both V1 and V2 are compatible with our products.
You can activate your license on up to 3 computers or iLok dongles at the same time and you can deactivate one and activate another as many times as you want.

Registration
Once your order is complete, you will be provided with a serial number.

You will then be able to register it to your iLok account from our website

on this page

(you need to be logged in to access this page). The whole process is described in the

FAQ

(instructions + screencast).
Add review
Here is my review of B5 from the perspective of a Gospel musician!
Amazing work from AS on B5! I'm not a Rock or Jazz musician but I'm straight Gospel. And when you dial in the right Leslie setting and overdrive, you get that classic COGIC organ instantly! Ready to growl, rumble and scream at will! The video linked is me playing this during a live church service.
Well done! Honestly, this latest update is outstanding. The biggest thing I've noticed is that chords sound so much more natural and not "synthy" sounding like some chords did in the earlier versions. Love'n this app!
Very impressive Hammond organ simulation! I am very satisfied with the purchase. Unlike other VST, this is the best for me !!!
You can read the review here: http://reviewrevival.weebly.com/reviews/acousticsamples-b-5-v2-review-virtual-tonewheel-organ-done-right
Matt Vanacoro is notorious for his exacting standards when it comes to Hammond sounds and instruments. So he was pleasantly surprised to find that the Acousticsamples B-5 V2 had it all... Read more here: https://ask.audio/articles/review-acousticsamples-b5-v2
Here is a thorough review of the B-5 V2 by John Mike
Here is a quick video introduction by phil curry of the B-5 Version 2
Sorry but I couldn't agree with any of the previous reviews at all and wondered what the fuss was about because version 1 was a let down for me , mainly because of the Leslie simulation. I downloaded the upgrade to version 2 and boy, this is the best and most comprehensive Hammond plug in to date. The "Leslie" has been completely redeveloped and really sounds wonderful. Congratulations! My go to was always NI B4 ver2 but it'll be this one from now on!
Warm, tridimensional realistic ...and the sampled vib/chorus has all the nunces of the real thing inside, simply because IT IS the real thing recorded, so beats any V/C virtual effect
I have fallen in love with this software organ. The sound has that "swoosyness" and "woodiness" of a real Hammond B3/C3/A100. Especially the lowest ans highest octave sound like Hammond Heaven. This will be an everlasting love! Thank you…thank you…
Been playing many many organ plugins, but this one take its price!! sorry for the language but this thing is damn fucking amazing!. Compared to others this one really has a special respond with the keys and the sound that i never experience with other organ clones. 10/10 - And Badass Seal of Approval.
You can read the review in french here: http://fr.audiofanzine.com/orgue-virtuel/acousticsamples/b-5-organ/editorial/tests/b-cinquieme-du-nom.html
This is just amazing. Thatnks for such a fantastic model. Feels as good as it sounds. By far the best B3 emulation!!!
Nice video review of the B-5 Organ by Pro Tools Expert https://www.youtube.com/watch?v=SH8HWWJs1mk
I'm blown away, love it! Thank you very mutch for this!
Add review